Rowan Community Music School is a College of Performing Arts, in Rowan University.
Of which Rowan University is a public research university in Glassboro, New Jersey.
Faculty's At Rowan Community Music School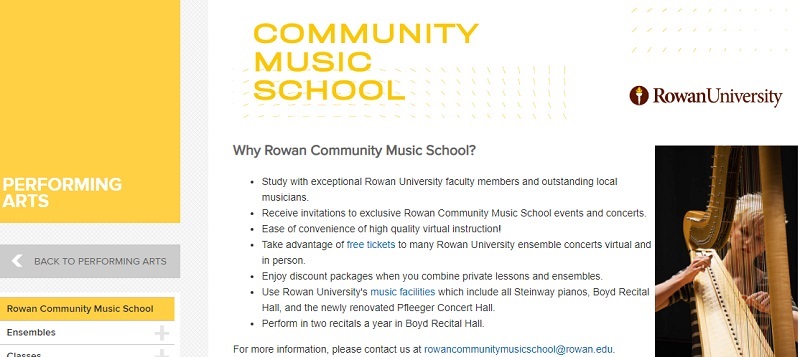 Their faculties include:
Music Technology
Woodwinds
Voice
Suzuki Strings
Songwriting
Strings
Percussion
Keyboard
Guitar, Ukulele & Mandolin
Brass
Composition
The mission statement of the Rowan Community music school is:
"to provide the diverse community of students in the greater Rowan University region with
High quality music instruction and performance opportunities…"
Tuition
Information about their tuition can be accessed here
Benefits Of Rowan Community Music School
They offer the following benefits:
Receive invitations to exclusive Rowan Community Music School events and concerts.
Enjoy discount packages when you combine private lessons and ensembles.
Perform in two recitals a year in Boyd Recital Hall.
Study with exceptional Rowan University faculty members and outstanding local musicians.
Contacting Rowan Community Music School
You can contact their office with the details below:
Phone: +1 856-430-2697
Fax: 856.256.4919
Email: rowancommunitymusicschool @ rowan.edu

On Facebook


Their Facebook page has 795 likes, and 103 people talking about it. According to Facebook checking – 94 people report that they've been there. (March 2021)
The Facebook page can be accessed at: fb.com/rowancommunitymusicschool

On Twitter


They are on Twitter as: @RowanCMS

On YouTube


They have a YouTube channel. It's not much functional as at when accessed. Barely no video at all. The YouTube channel can be accessed here.
School Videos
--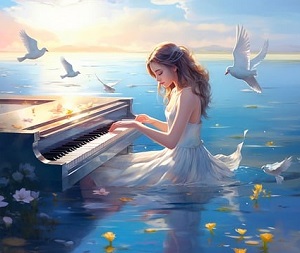 Compose Your Own Beats in Minutes
Majority of their videos are those uploaded or streamed to Facebook. They have a handful of videos on there:
Access their videos here.
Shop At Rowan Online Marketplace
Their departmental shop listed the following:
2021 Spring Ensembles
Another one is: 2021 Spring Classes and Workshops
2021 Spring Registration for Rowan Community Music School Lessons
Another one is: 2021 Spring Rowan Community Music School Lessons
2021 Spring Rowan Faculty Lessons
2021 Summer Camps and Workshops
Updated programs and items of the shop can be accessed on the school' website.
You can get further Rowan Community Music School information' on their official website.
–
Like It? – Share Please.
the goodmusicAfrica upcoming Song of the Day
I'm missing you

LekanA

3:47
Like it? Download It
---
Need More Music Schools? – Check The Table Below: