The School of Music & Recording at Full Sail University, offers interesting music degrees.
Music Engineers of Full Sail University Music Engineering will get good ear training.
Furthermore, they will also practice, and understand the science behind industry-standard recording equipment.
It even has a status of: One of the Best Music Schools – InTune Monthly – 2020
What Music Courses Are Offered At Full Sail University Music Engineering School?
They offer undergraduate degrees for these programs listed below: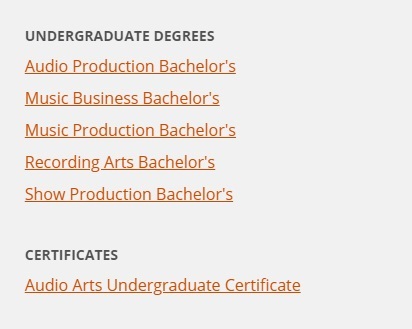 Undergraduate Degrees
Audio Production Bachelor's
Music Business Bachelor's
Music Production Bachelor's
Recording Arts Bachelor's
Show Production Bachelor's
(UNTIL NOW – I'd thought Audio Production, and Music Production means the same thing – now I'm seeing they're different.)
They also offer certificate courses in:
Audio Arts Undergraduate Certificate
(I can't rush over those music industry undergraduate programs. And that's because I find them appealing. So allow me to highlight my major interests; from the 5.)
Infact, depending on your life goal in the music industry – it might be a good idea to undergo each of those 5 courses.
I'm saying that because each of those knowledge is needed in today's music industry. (Especially in our digital music age)
--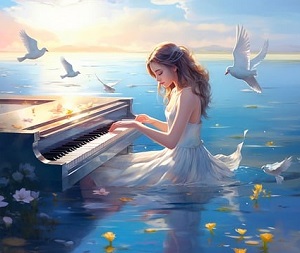 Compose Your Own Beats in Minutes
More information about their music programs, you can be found on their website at: [L]
Audio Production – Bachelor Of Science
First for me, is the ability to learn about the fundamentals of music business.
Second to that, would be the ability to learn contemporary music production techniques.
(Including sampling, loops, MIDI, and live recording. Production and post production techniques inclusive).
Music Production – Bachelor Of Science
Another great offer at Full Sail University Music Engineering' music production program is:
The ability to learn about Recording Principles:
Of great interest again is the ability to learn about Workstations.
A detailed knowledge of Digital Audio Workstation (DAW) is going to be a huge leverage. That's even more true in today's music industry.
Students can expect to learn:
Digital audio principles
DAW
Advanced audio production skills and engineering skills.
The next program that interests me from Full Sail University Music Engineering is:
Show Production Bachelor's.
Now -trust me; that's a golden one! – Showmanship is at the heart of a successful music career.
Show Production – Bachelor Of Science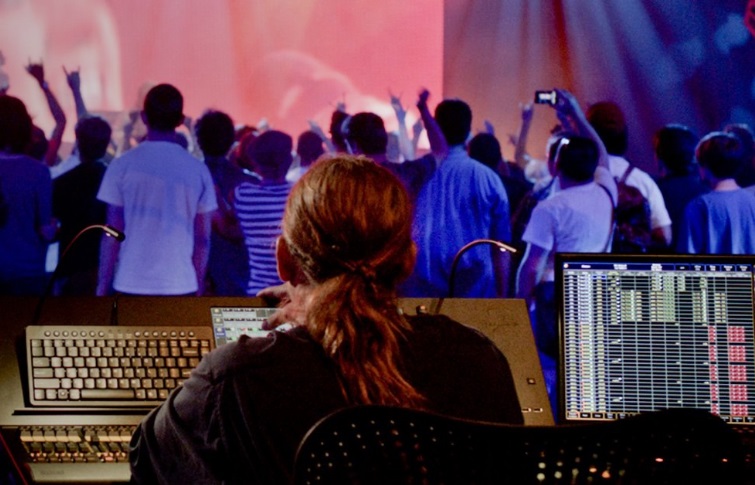 One major highlight here is the ability to learn about Audio Measurement Systems. Students will learn that, Using softwares and hardware.
The Ability to learn about Mixing Techniques – in Show production, is also a gold skill to get.
Students of Show Production Bachelor can expect to learn about:
lights
Audio
And the magics – that ignites a WOW Experience in the crowd – both during and after the show.
Audio Engineering Techniques: At Full Sail University?
Audio Engineering Techniques is offered at Full Sail University.
Their audio engineering techniques course focuses on professional audio recording, mixing and editing.
Students should expect to learn strategies for producing the highest-quality music-production projects.
Interested in this course? – Learn more about their audio engineering techniques here: [AET]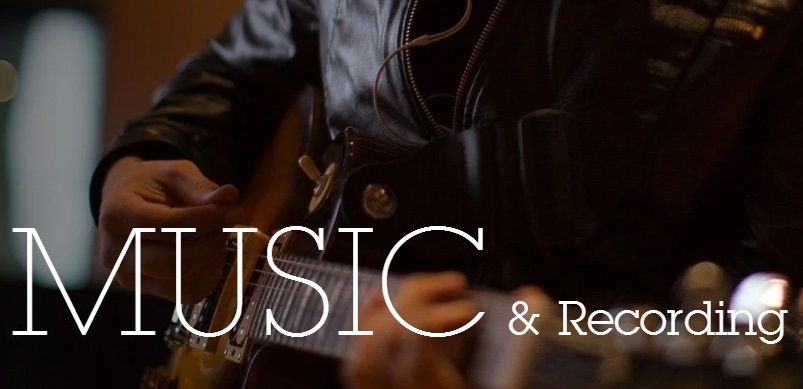 All other information about music & recording school at full sail university music engineering – can be found here [MR]
---
FAQ About – Full Sail University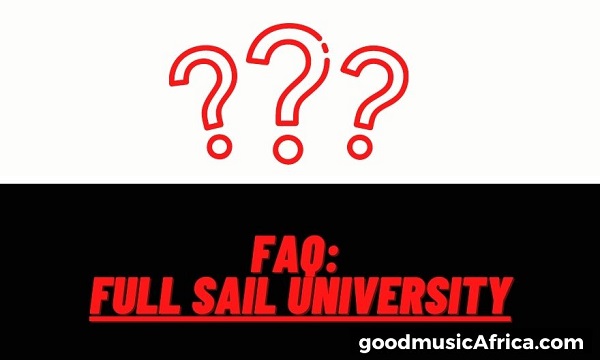 Is Full Sail A Real University?
"Full Sail University is a private, for-profit university in Winter Park, Florida.
Full Sail is accredited by the Accrediting Commission of Career Schools and Colleges to award associate, bachelor's, and master's degrees in audio, design, computer animation and business" – Source [L]
Is A Degree From Full Sail Respected?
"If you build an excellent portfolio when at Full Sail, and you take the time to network, you can go far. There are no guarantees though.
As a graduate of the web design and development degree program, every client and employer which I have had has been very positive about the degree." – Source [L]
Is Full Sail Hard To Get Into?
Are you wondering – How hard is it to get into Full Sail University?
A set of data from Campusreel says "Full Sail University is exceptionally difficult to get into.
Not only should you be aiming for a 3.15 but also SAT scores around" – [L]
BUT – Irrespective of how hard other's say it's hard getting into Full Sail – Please Note That: the school invites people who are ready to take the next step with them to – request more information about their programs [L: https://www.fullsail.edu/area-of-study/music-recording ] – or call them at 800.226.7625.
the goodmusicAfrica upcoming Song of the Day
I'm missing you

LekanA

3:47
Like it? Download It
Does Full Sail Give You A MacBook?
According to mycolegelaptop – "Full Sail offers the LaunchBox Initiative from Apple to current enrolled students which provides every student with an Apple MacBook Pro laptop.
Exceptions to this are students pursuing Game Development, Software Development, and Simulation and Visualization Degrees." [L ]
Is Full Sail University Free?
According to the tuition page of the university – "Full Sail University structures its tuition in a unique way that includes expenses such as Project LaunchBox™ – a personal technology package customized to each degree, as well as textbooks, manuals, media, production materials, lab fees, technology fees, and other associated costs."
All other details about tuition at Full Sail University is here [L]
---
Want More Music Schools? – Check The Table Below: