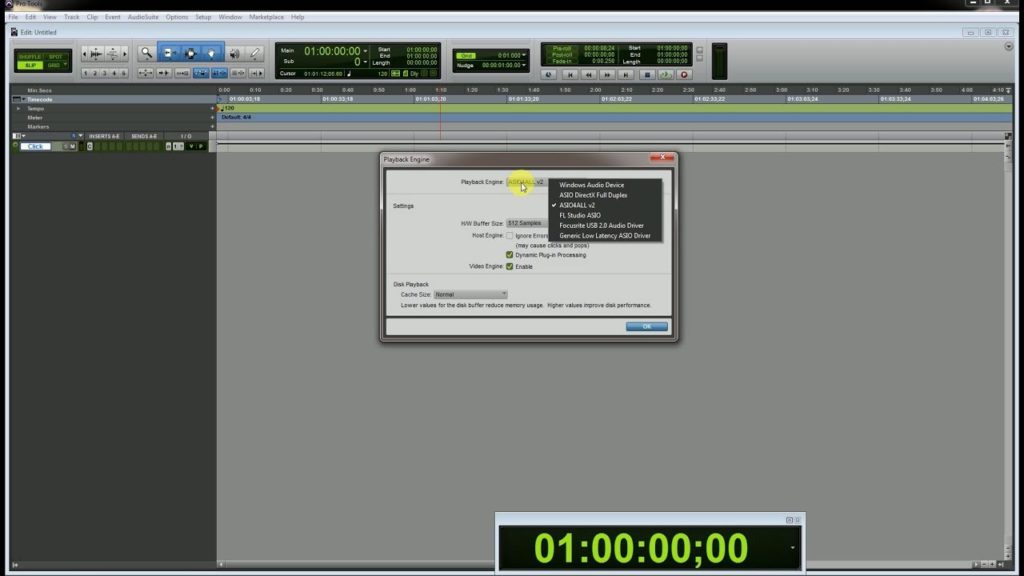 Hey Pro Tools User, today I'll show you how to set up "Pro Tools 12.5" with "Focusrite 2i2" — first generation driver.
Normally on the Focusrite driver control, there's only buffer length — with no sample rate settings.
Next,
"Open Pro Tools HD".
Previously when I started Pro Tools they are default 44 kilowatts, and when I opened 48 or 96 kilowatts, it's totally crashed.
And this is Focusrite 2i2 — with 2.5 driver.
OKAY
Open Pro Tools and rename your project, then sample rate settings 48 kilohertz — or 96 K.
And IO settings — Stereo mix.
Click Create.
Pro Tools opens.
Then go to hardware, and launch "setup app".
When you setup playback engine on "Focusrite USB 2.0 driver" then no playback with 96 kilohertz or 48 kilohertz.
That's why I am select "ASIO4ALL v2" — and hit OKAY.
Then I/O settings,
this is my I/O Video —
Watch The Full Video Below to Practise doing it
Pro Tools Expert Video: "How To Solve Sample Rate Problem | Error In Pro Tools 12.5"
The Problem Description:
"Error In Pro Tools 12.5" | "Sample Rate Problem"
Using Focusrite 2i2 and have a problem that there are no 48khz and 96khz sample rate Recording.
When I set 48khz or 96khz — it crashes and error message shows up.
Then I Installed Focusrite 2i2 4.5 driver and then opened Pro Tools — then No error shows up. But Driver crashing on Win7 PC .
Then solving this by using ASIO4ALL Driver — and now Pro Tools 12.5 runs perfectly with 48khz and 96Khz.
Solved. Please follow the author
Read more about: 
"Focusrite Scarlett 2i2" (3rd Gen) "USB Audio Interface". Description | Features | Benefits

Focusrite Scarlett 2i2 is one of the most famous audio interface for artists throughout all genres. The 3-generation Scarlett 2i2 features two mic/line/instrument inputs. Thereby allowing simultaneous recording, and playback of up to two channels.
Independently controllable headphone and display outputs.
The 2i2 features two upgraded third-generation Scarlett mic preamps. — with optional Air setting to reproduce the Air effect of Focus rite's original ISA mic preamp.
With this feature, — Focusrite 2i2 is gives your vocal and acoustic recordings a brighter sound.
With its 24-bit/192kHz AD-DA converters, Scarlett delivers the identical professional sound quality. [ Source: Amazon ]
Properties "Focusrite Scarlett 2i2"
9 Things you need to know about Foucsrite Scarlett 2i2
I hope found the article on Solve "Sample Rate Problem" and "Error In Pro Tools 12.5" — helpful.
—
Please Share