In Guitar Lessons for Beginners Video 1, — Coach Erich had talked about Posture, Hand Techniques, Pick Holding as First Recommended Guitar Lesson for any beginner one who wants to learn guitar and guitar tricks.
So if you haven't watched Video 1, then its recommended that you start from there, (because you don't want to miss a thing!)
the goodmusicAfrica upcoming Song of the Day
I'm missing you

LekanA

3:47
Like it? Download It
Just trust the process. And follow through. Watch Video 1 here [ Guitar Lessons for Beginners Video 1 ]
For the rest of us — lets proceed to Guitar Lessons for Beginners Video 2
How can I motivate myself to practice an instrument?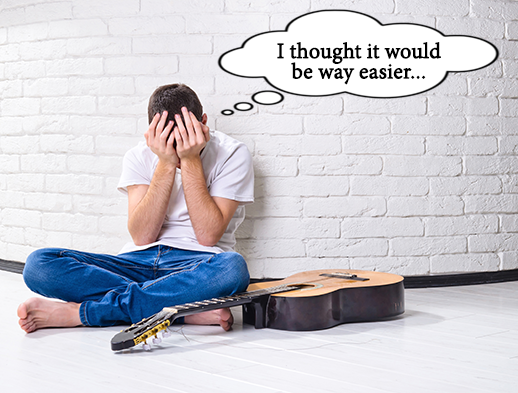 So this beginner's video series on Guitar Lessons for Beginners Video continues to teach on how you can learn to play guitar by yourself.
Brought to you by the Fantastic Guitar Coach – Erich — at "Your Guitar Stage". Feel free to check Your Guitar Stage when you need to.
--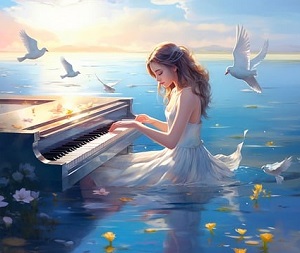 Compose Your Own Beats in Minutes
But for now — Let's quickly talk about what makes this Video Lesson 2 Amazing
Guitar Lessons for Beginners Video 2
DON'T Give up at Posture and Hand Techniques
Guitar Lessons for Beginners Video 2

: Don't Give-up
This guitar lesson Video 2 is more of an encouraging one.

It advices beginner out there against getting discouraged with learning guitar.

Remember:

"Every Man was once a boy"

"Every Woman was once a girl"
According to Coach Erich, the right mindset, in the form of adequate motivation is a critical virtue for you who would like to know how to learn to play guitar by yourself.
That's because its very easy to give up here — especially at the early stages of Postures, and Picking.
All i'm saying to you is that you should not give up on guitar picking and postures.
If the right mindset and encouragement wasn't so important, it wouldn't be the Video Lesson 2 on our Guitar Lessons for Beginners.
And as you most likely know already, this video series is one of the BEST online guitar lessons for beginners, that you would ever find out there.
And this is your opportunity to learn guitar from scratch as a beginner.
Don't miss this opportunity.
Don't let the pains of Guitar picking and posture put of your dreams of learning the guitar.
You have to remember why you started in the first place.
So that its.
How to "play a guitar". Beginner Lesson 2: Posture Hand Techniques Recommended: "Guitar Pick" and "Acoustic Guitar"
When how to play a guitar, beginner's need to practice often. and we've shown you how to do that in the video. Now you just need to practice frequently.
That's why we put up these recommended resources, so that anyone can know how to play a guitar. Beginner's and learners need this tools as a sign of commitment to the the goal of learning guitar fast.
Acoustic Guitar
Guitar Picks
If you want easy acoustic guitar songs and beginners guitar tutorial — then you just got one on this post.
We sincerely hope that you put in the commitment so that you can grow from the guitar beginner lesson to upcoming pro guitar lesson in this 26 part guitar training video series.
I'll see you on Video 3: [Guitar Lessons for Beginners Video 3]
–
Continue Practicing!!!