BLVQ Iris – Musical artist – is a Rapper | Songwriter | Producer. @arts.ent Head Event Coordinator, who sometimes ago released her EP called: THE COMPANY YOU KEEP.
The EP – THE COMPANY YOU KEEP got a decent share of publicity online and offline media channels.
Can we talk first about the EP? – And Then About What's Next for Blvq Iris – After Her EP. See BLVQ IRIS EP cover below: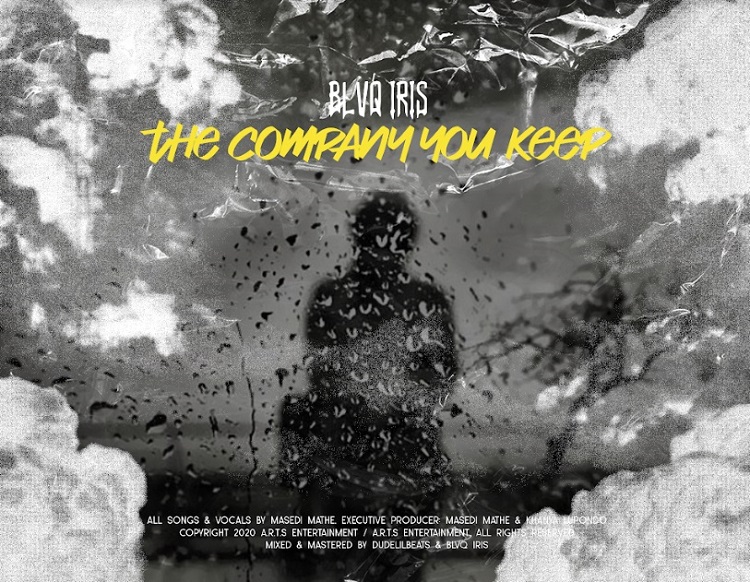 The EP title is The Company You Keep
How About – Tracklist on The Company You Keep EP?
Her EP tracklist has 6 songs:
The company you keep (Intro)
Pressure
Toss it
Shadows
Pricey (Feat. Cheddiss T)
Figures
(All songs & vocals by Masedi Mathe.)
Need More Information About Blvq Iris? – Check her Bio in the Press Kit below:
Formally known as Masedi Mathe. She's a Cape Town-born rapper, songwriter, and producer. Her interest in music began at the age of 9 through her obsession with pop icon Michael Jackson.
Her love for hip hop began at the age of 12 after she discovered Eminem's song, "The Way I Am". Feeling misunderstood for most of her teenage years, IRIS sought refuge in the rawness and unapologetic expression in hip hop music. She began writing and recording her own music at the age of 14.
Up to date, IRIS has only released 3 singles but has performed at numerous events around Cape Town. She has hosted a total of 7 and headlined 4 of them under her company A.R.T.S Entertainment.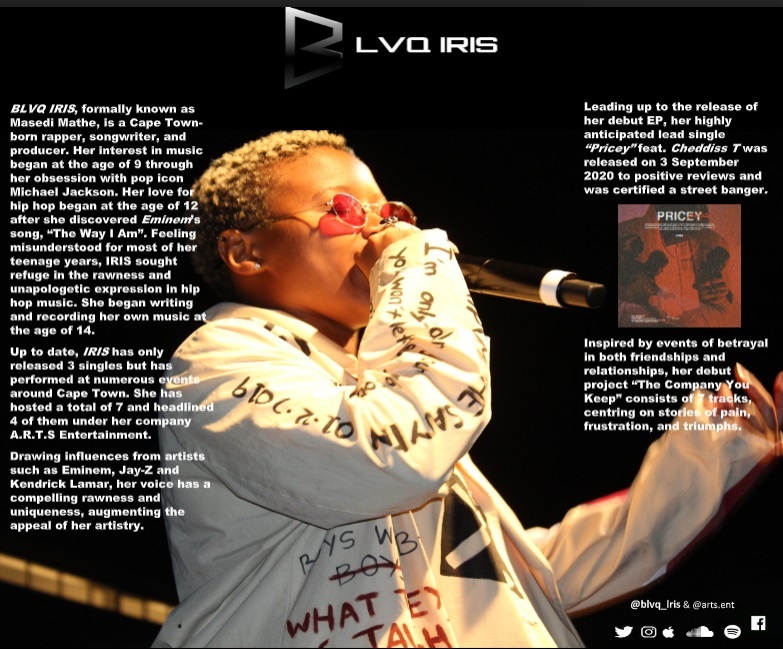 Drawing influences from artists such as Eminem, Jay-Z and Kendrick Lamar, her voice has a compelling rawness and uniqueness, augmenting the appeal of her artistry.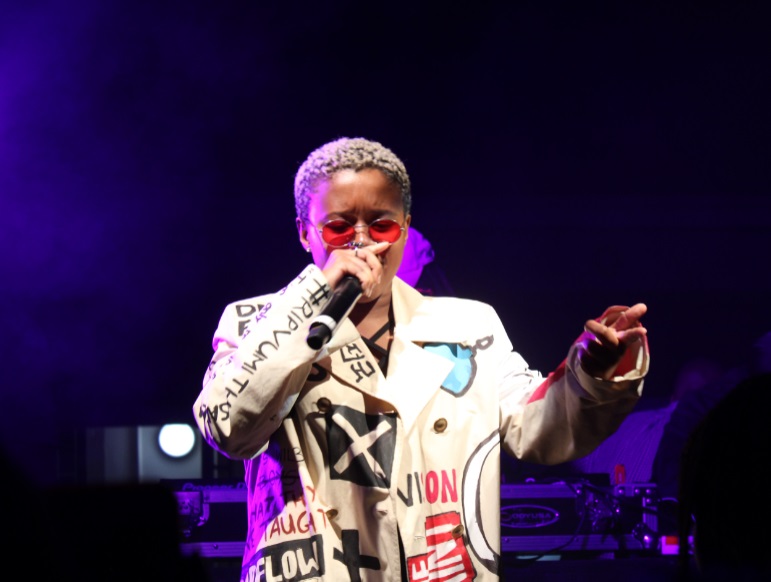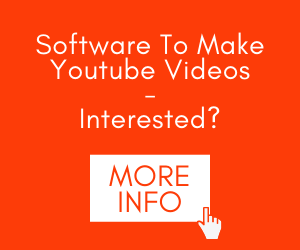 How To Contact BLVQ Iris?
Booking info: BLVQIRIS@gmail.com
Tel: +27 844970070
Facebook [FB]
Instagram [IG]
Twitter [TW]
More links can be found on her Distrokid landing page [LP]
The South African Musical artist – Rapper | Songwriter | Producer has appeared on Songwhip, iconic-black – and now on goodmusicAfrica.
So –
What's Next After BLVQ IRIS – The Company You Keep EP?
Most people tend to relax after an EP, but that's not likely going to be the case with BLVQ IRIS.
After her The Company You Keep EP, Blvq Iris has made an INTERVIEW AND PERFORMANCE OF PRICEY WITH one @HEATWAVEPLATFORMS on Instagram.
And even more RECENTLY, she also GOT FEATURED ON THE @thehangoutduo BLOG & WAS PLAYLISTED ON THEIR RADIO SHOW – and now appearing on goodmusicAfrica.com
Hey – BLVQ IRIS – goodmusicAf Indie Promo wishes you All The Best in your music career – (And remember to bring up IT GOOD, Positive & Inspiring songs for the people)